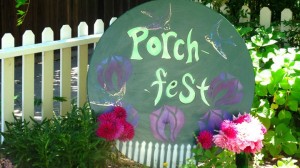 You can catch Michael & Jessie at Napa Porchfest 2012!  They'll be on the Porch of Brian & Tina Cox at 1517 E Street, Napa, CA from 2-5pm.
HERE'S THE CONCEPT:
An assortment of live music on many porches in Napa playing on the same day at the same time scattered throughout Downtown neighborhoods. You pick and choose the ones you want to go hear. You can bike, drive, walk, skip, roller skate, skate board, pedibike or fly from porch to porch much like you would cruise from studio to studio during the Open Studio events. A detailed map with music bio's and schedule will be available online at our website at napaporchfest.org AND on this page.
Napa's 2nd annual Porch Festival is a one day event showcasing Napa Musicians playing on some of the finest historic porches in town. Mark your calendar, tell your friends, fill your water bottles and grab your beach chairs. Come on out and roam from porch to porch to hear some really great music. Bring your friends, bring your family and bring yourself down to the neighborhoods of Old Town for what promises to be a really great time!!!!
Please leave your dogs, goats, chickens, rabbits and kitty cats at home.
Maps will be available online at napaporchfest.org and hard copies at WILDCAT, 1210 First Street, the Goodman LIbrary, 1219 First Street and at The Thursday night CHEFS MARKET on First St between 5-9pm in Napa!!
Bringing music out of the garage and onto the porch!